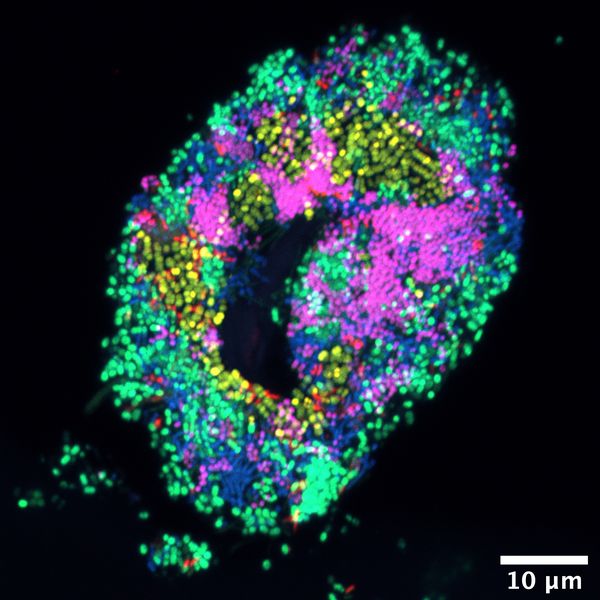 Wilbert SA, Mark Welch JL, Borisy GG. Spatial Ecology of the Human Tongue Dorsum Microbiome. Cell Rep. 2020 Mar 24;30(12):4003-4015.e3. doi: 10.1016/j.celrep.2020.02.097. PMID: 32209464; PMCID: PMC7179516.
Mark Welch JL, Rossetti BJ, Rieken CW, Dewhirst FE, Borisy GG. Biogeography of a human oral microbiome at the micron scale. Proc Natl Acad Sci U S A. 2016 Feb 9;113(6):E791-800. doi: 10.1073/pnas.1522149113. Epub 2016 Jan 25. PMID: 26811460; PMCID: PMC4760785.
Bor B, Collins AJ, Murugkar PP, Balasubramanian S, To TT, Hendrickson EL, Bedree JK, Bidlack FB, Johnston CD, Shi W, McLean JS, He X, Dewhirst FE. Insights Obtained by Culturing Saccharibacteria With Their Bacterial Hosts. J Dent Res. 2020 Jun;99(6):685-694. doi: 10.1177/0022034520905792. Epub 2020 Feb 19. PMID: 32075512; PMCID: PMC7243422.
Utter DR, He X, Cavanaugh CM, McLean JS, Bor B. The saccharibacterium TM7x elicits differential responses across its host range. ISME J. 2020 Aug 24. doi: 10.1038/s41396-020-00736-6. Epub ahead of print. PMID: 32839546.